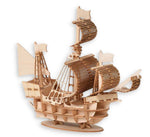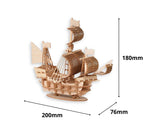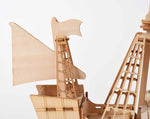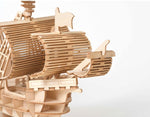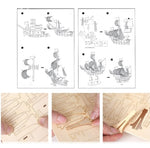 ---
---
The Sailing Ship can be creative gift to surprise friends and family for any occasion.
You can choose to build it on your own or enjoy it with your friends or family. It is a great challenge to your mind and hands and also a perfect display for stylish collections!
Material: Laser cut plywood.
Instruction manual: English. Each part has corresponding code, which makes the assemble easier. No glue needed.
Recommended age: 8+ (Children under the age of 8 can complete the assembly accompanied by their parents).
Weight: 0.115 kg.
Ship size:  200mm x76mm x 180mm.
Package includes: English instructions + 3 precut wood sheets.
Note: Wood chips are fragile, so fixing should be done carefully. Small parts are not recommended for children under 3 years.
Why should you buy form us?
We believe in going the extra mile to ensure that each customer will be satisfied with our products.
Our friendly Customer Service always ready to help you with any questions or concerns.
Do you have any questions? Contact us by:
email.:  info@amber-sales.com
---