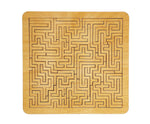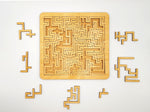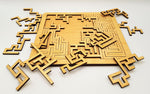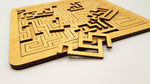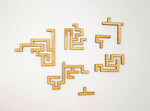 ---
---
MAZE jigsaw puzzle mind-bending design with 41 unique geometric shapes is created by Amber Sales.
The object is simple, remove all puzzle pieces from the tray and try to get them all back into the tray.
The pieces can fit into the tray in dozens of different positions, making the puzzle more challenging than it appears. To make the puzzle even more difficult you can try to solve the puzzle without a tray.
Material: laser cut birch plywood.
Colour: as every sheet of plywood is different each puzzle has slight colour variations.
Number of pieces: 41.
Approx puzzle dimensions with pieces inside: 19.7 cm x 19 cm x 0.6 cm.
Personalisation: We can engrave a name or short message of up to 50 characters on the back of the puzzle.
---