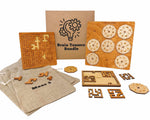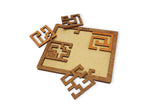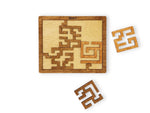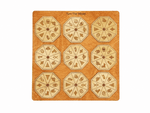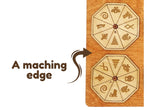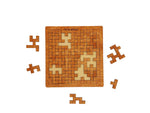 ---
---
Brain Teasers Bundle is an exciting bundle of 3 different types of wooden puzzles: 
 

Turn The Wheel

 (edge matching puzzle)
 

Maze 5

 

(packing puzzle)
 

Tricky Blocks

 

(jigsaw puzzle) 
Puzzles are a great way to pass a time and exercise your brain so these 3 wooden puzzles just might be the mesmerising addition your collection needs.
Let's check each of them.
Turn The Wheel
This beautiful edge matching puzzle will challenge even the most seasoned puzzle lovers. 
The aim of the puzzle is to place all the 9 octagon shaped puzzle pieces such that all close edges have a matching symbol. 
You can turn all octagons to sides and change their places.
This is a challenging puzzle as there are 8 deeply engraved symbols on each octagon. Typical edge matching puzzles will have only 4 or 6 symbols on each piece. So be ready, this puzzle has an incredible amount of possible combinations! Can you find the matching one? 
Maze 5
Everyone loves a good puzzle and you can't go wrong with the Maze 5 packing puzzle.
Looks like anyone should be able to solve it in minutes, since it's only 5 pieces. Yet, it is so much more difficult than it first appears! The aim of the puzzle is to pack all 5 maze shaped pieces into the frame.
It makes a fantastic desk or coffee table puzzle as people will want to try it and tend to get pulled into the puzzle, not wanting to give up. You can attempt it in seconds and always seem to get close...
Approx dimensions: 10.5 cm x 12.5 cm x 0.06 cm
It will come packaged unsolved, though a written solution will be provided.
Tricky Blocks
Tricky Blocks puzzle with 25 wooden pieces will test your concentration, improve logical thinking and will keep you busy for quite a while.
Can you solve it without instructions? How quickly? Just remember, the wood grain is not a hint for you to follow.
Approx dimensions: 14.5 cm x 13.5 cm x 0.06 cm
It will come packaged solved, also a written solution will be provided.
These beautifully crafted puzzles are made from 3mm birch plywood with a gorgeous finish.
Brain Teasers Bundle is suitable not only for puzzle professionals but also for beginners, who like to solve puzzles. There are instructions included with each puzzle to help you. Average completion time varies depending on the individual.
WARNING: Choking Hazard for small children; Small Parts. This is not a toy.
---