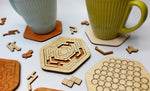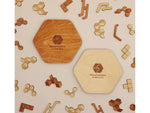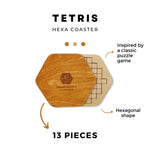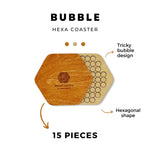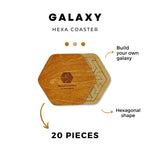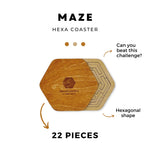 ---
---
Hexa puzzle coasters are small and easily portable, so you can exercise your brain not only at home, but anywhere you go: work, party, picnic, travel etc.  Don't worry that puzzle pieces will fall apart while carrying. Coaster top and bottom connect with magnets, so it helps puzzle pieces to stay together.  Moreover, you can enjoy your favorite drink during your puzzle solving and forget about table marks. 
Material: Laser cut birch plywood sanded and covered with a blend of natural oils and resins that provide a durable and waterproof finish for coasters.
Approx coaster dimensions: 100 mm x 9 mm x 9 mm.
You will get 6 different Hexa puzzle coasters: 
3D CUBES puzzle coaster (11 puzzle pieces)
TETRIS

 

puzzle coaster (13 puzzle pieces)
HONEYCOMB

 

puzzle coaster (14 puzzle pieces)
BUBBLE

 

puzzle coaster (15 puzzle pieces)
GALAXY

 

puzzle coaster (20 puzzle pieces)
MAZE

 

puzzle coaster (22 puzzle pieces)
You can choose between 2 color combinations: 
---